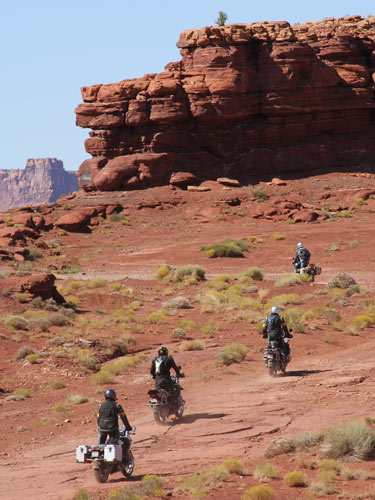 This is the sixth edition of the ARC (Adventure Riders Challenge) and we're excited once again to be involved with BMW Motorrad's GS Trophy. If you're not familiar with the GS Trophy it's a bi-annual event with an international flair where teams from 13 countries come together in competition to determine who has the best GS riders in the world. The 2012 Trophy will take place in South America this November and If you think you've got what it takes to make Team USA then be sure to sign up as a "competitor" in the greatest Adventure Bike spectacle in North America.

We are welding two events into one this year and here's how it's all going to work.

The ARC is an annual event hosted by RawHyde featuring amazing rides, food and comraderie. The GS Trophy Qualifier is an additional element to the ARC and serves as the westcoast qualifier for a chance to be part of Team USA in South America.

We will be offering offering either a three day or four day package. You can compete in the westcoast qualifier for the GS Trophy regardless of which package you choose, BUT be sure to check the box on our application that enrolls you as a competitor.

About the GS Trophy Qualifier.

Moab Utah is situated in America's most incredible setting… the red sandstone playground of Arches & Canyonlands National Park. This rugged region is home to an incredibly wide variety of the most scenic and challenging backcountry trails you can find in North America.

Take a look at the photos on our Gallery Page and imagine yourself riding your Adventure Bike through this stunning landscape.

Also take a few minutes and poke around the official Moab website.

| | | |
| --- | --- | --- |
| | | |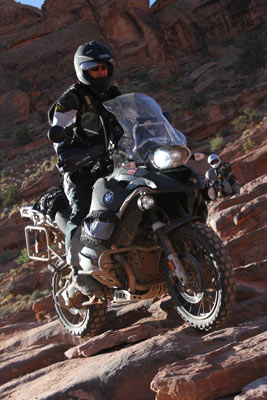 Simple – it's all about riding through the types of landscapes your motorcycle was meant for. It's about the exhilaration of personal achievement, and it's all about fun!

Over the years the Adventure Riders Challenge has encompassed many different types of competition, and this year there's still a competitive element for those hardy riders who want to win a place on Team USA. BUT - For 2012 all we mainly want you to "challenge yourself" and explore some of the most amazing places that you'll ever see. We have selected 10 trails from the hundreds available in Moab and you'll be tasked with the challenge of riding 5 of them. They are of varying difficulty levels so everyone can come away with a sense of accomplishment and every trail is incredible in its natural splendor. When you complete the challenge you will get an awesome jersey commemorating the event.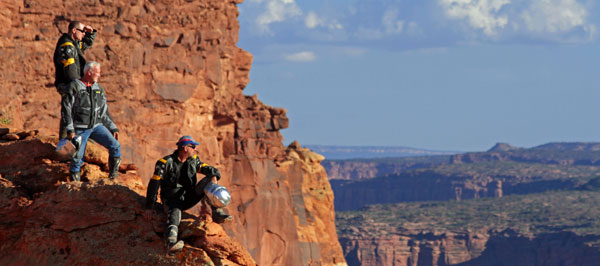 Where else will you find 250 fellow Adventurers who are just looking for some back country fun? You will have the chance to go riding with folks who love the same thing as yourself. You'll spend evenings hanging round the campfires re-capping the day's rides. Top notch food will be prepared by RawHyde's Chefs and will be sure to satisfy the cravings brought on by a long and fulfilling days of serious riding. Evenings at the "Dakar Bar" will provide a pleasant end to the day as well as face to face interaction with many vendors of adventure riding products and accessories. You'll have a chance to hang out with the guys from BMW Motorrad, RevZilla, Touratech USA, Happy-Trails.com, Jesse Luggage and many more.

All this and more wrapped up into three or four days that are not to be forgotten. If you own an "Adventure Bike;" you do not want to miss this event. It embodies every possible aspect of why you ride such a machine. Ask anyone who has been with us in the last few of years… It's a blast.

Join us in September... Sign up now!




Background photo by: Steve Koch