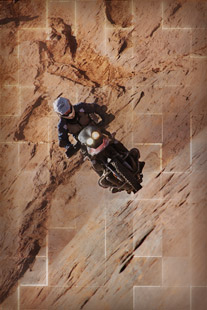 The third installment of the GS Trophy – the open international enduro adventure challenge - this November, a U.S. team will be chosen to travel to South America for a six-day event, where they will meet and compete against fellow enduro enthusiasts from all over the world.

This already legendary BMW event stands for adventure, sweat, fame, international camaraderie and lots of riding fun. It's a fun adventure that challenges every rider to not only perform well, but also to capture the experience in words and photos and relay the trip out to the world. Some 50 riders from around the world will demonstrate their team spirit, riding skill, tenacity and not least of all, their social connection abilities. And although there's only one winning team in the end, it is always fascinating to see how gravel, sand and mud can make so many riders so happy. It's a social event as much as a competition, and the shared experience and new friendships are always the greatest reward.

For the national qualifying events, anyone can compete as long as you bring a BMW to ride. In South America, each will mount up on a BMW F 800 GS for most of the riding. Over the course of the 2,000 km route, riders will also complete special tests on a G 650 GS Sertao or a Boxer GS.

Sign up here now! Learn more on BMW's official GS Trophy website: gstrophy.com.